Train 4 Life and Be Ready For Anything

Unleash

Your

Full Potential

Thousands of Core Conditioning clients already have, why not you? #NOEXCUSES

Watch video

No Long-Term Contracts
What's new?
We have a great new class being offered at Core Conditioning! Cardio Core and Restore (CCR)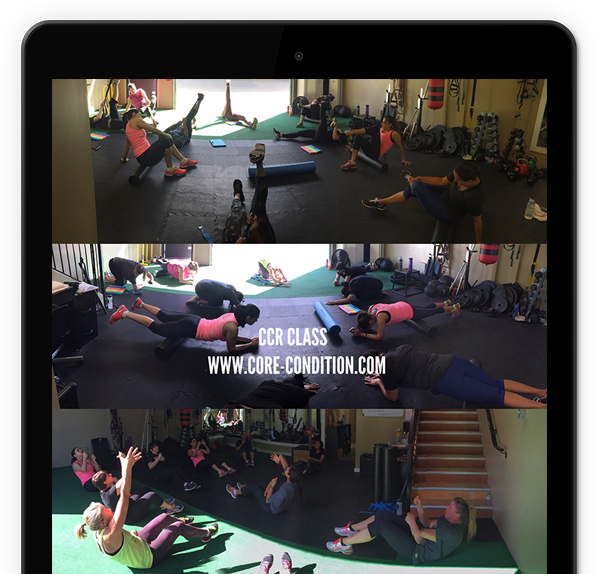 CARDIO CORE AND RESTORE (CCR)
Do You hate doing cardio? Do you avoid stretching on your own, but know in the back of your mind you should be doing it? Do you feel you need to work more on your Core specific strength and stability? IF YOU ANSWERED YES TO ANY OF THESE QUESTIONS - THIS MIGHT BE THE CLASS FOR YOU! In this class we will begin with a group warm-up, followed by 20 minutes of intense cardio intervals geared towards burning fat fast, then we will head into 15 minutes of deep core stabilization training, finishing up with static stretching and foam rolling. This is a great class to supplement your strength training workouts, IS EASILY ADAPTABLE TO ALL FITNESS LEVELS, AND CAN BE ACCOMMODATED AROUND INJURIES.
CHECK THE CLASS SCHEDULE
REGISTER NOW
Our Services
Whether you have a specific weight loss or fitness goal in mind, need to recover faster from an injury, or simply want to be part of our supportive fitness family – We offer something to fit both your lifestyle and budget
Our Trainers
We have a solid team of experienced and knowledgeable trainers to help you become the best version of yourself.

Class Schedule
 View our class schedule below a register for the classes you want to attend. Remember your first class is free, so what do you have to lose?
I am losing weight, gaining strength and feeling the best I have felt in years. I am on my way to a healthier lifestyle, and much of the credit goes to Michelle.

Poonam Bains

These classes helped me in a number of ways ranging from keeping up with my children in their many extracurricular activities to improving my posture or tasks as simple as gardening.

Giusi Gerwin

I have tried other circuit classes in the past but nothing compares to this, there is something new every week and if an exercise is too difficult at first Michelle always has an easier alternative.

Sheila Foster

Michelle has made such a difference in my life! I have a weakness on my left side due to cerebral palsy, which also affects my balance. During the past year of working with Michelle, my balance and strength have undergone tremendous improvement.

Marke Dunne

After about two weeks of good healthy eating I noticed right away that this class was making a difference. My stomach was tighter, butt was sore and I was getting stronger. Now when I say stronger I don't mean bulging muscles, I mean I could open my own jars without my boyfriends help. Michelle's classes are the perfect fit for my busy schedule and my life.

Bailey S

I soon began to notice a difference in my energy level, strength and flexibility. I also began to gain considerable upper body and core strength. At the end of the summer we did my first set of measurements and I was amazed at the changes in my body. I had lost inches everywhere but the most significant change was losing over 3 inches on my waist.

Sarb Grewal

Wow Michelle! I didn't weigh myself or examine myself in the mirror for too long or anything for the 21 days. I didn't think it was making much of a difference body shape wise. Just kept my head down and listened to you. I feel good about myself and seriously feel like you've given me my life back

Gurminder Malik

How do I even begin to write in words my experience with core conditioning? LIFE CHANGING! The one thing that Michelle has taught me and which is probably the most important, living a balanced and healthy lifestyle.

Andrea Acherholt
Blog
Check out our blog for regular updates, fitness tips, and healthy recipes
Questions?
Shoot us a message below!
px;